The Cycle of Sameness
Before reading this blog, close your eyes and imagine a world where everyone is the same. They appeared, talked, behaved, and thought the same. Not a single deviance from the standard norm set by this world's society. This world was uniform, its citizens in sync with any creative or independent thought punishable by law.
Today, diversity allows for innovation and creativity, the foundation of both technological and societal advancements. Without it, we would perpetuate a cycle of stagnating boringness, as seen in the previously described society.
NSTEM actively works to ensure this is not our future. We're committed to serving all students and educators regardless of their race, gender, religion, ethnicity, disability, age, nationality, and sexuality. We know learning thrives best in a diverse community!
NSTEM's IDEAs
NSTEM is committed to IDEA: inclusion, diversity, equity, and access. The concept of IDEA encompasses acceptance, understanding, and respect for the defining differences of each individual. NSTEM hopes to foster a safe, nurturing environment for students from all backgrounds to learn. Then only can students become the STEM leaders of tomorrow. But how do we define inclusion, diversity, equity, and access?
Inclusion
Inclusion is a universal human right

. It means to embrace all people irrespective of race, gender, disability, medical, or other need.
It's about getting rid of discrimination and intolerance (removal of barriers). Inclusion affects all aspects of public life.
Diversity 
Diversity refers to differences. Although an individual can not be diverse, per se, a group of individuals can possess it.

There are many dimensions to diversity, including but not limited to ethnicity/race, gender, disability status, nationality, religious affiliation, sexual orientation, and socioeconomic background.

Every individual maintains multiple intersecting social identities that contribute to a classroom or workplace's diversity. 
                                                              Equity 
Equity is often mistaken for equality. However, equity refers to fairness and justice whereas equality means providing the same to all.

Equity recognizes that we do not start with the same resources or environment. It encourages us to adjust to, identify, and overcome intentional and unintentional barriers arising from bias or systemic structures.
Access
Access refers to educational workplace policies that strive to ensure individuals have equal opportunities and can take full advantage circumstances.

In an academic context, increasing access typically means providing additional services, which NSTEM offers. In school-related activities, remove potential barriers that hinder students' equitable participation. 
The Melting Pot & the Soup of It's Labor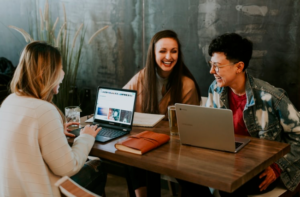 According to Steve Jobs, the late CEO of Apple, "A lot of people in our industry haven't had very diverse experiences. So they don't have enough dots to connect, and they end up with very linear solutions without a broad perspective on the problem. The broader one's understanding of human experience, the better design we will have."
Jobs, arguably the best technological product CEO, understands diversity is essential to formulating solutions posed by the society we live in today.
Research, a fundamental process in STEM-related fields, urges us to think critically and view the problem from different perspectives.
To create solutions, one must bring together those with different perspectives and experiences capable of adding new information. Research allows for the inclusiveness of people with diverse backgrounds, which enables a melting pot of ideas. Yet, statistics reveal a lack of diversity in science, technology, engineering, and mathematics (STEM). 
Incorporating IDEAs
NSTEM is not only aware of this fact but actively works to change it. We have developed initiatives & supporting policies that break down the notion of a STEM industry professional's appearance and background. We are advocates and strive to spread awareness of the importance of IDEA in STEM.
To learn more about Collaboration, Community, & Connectivity from the leaders of STEM Education, register for our free webinar, STEMulating Conversations, today!
Written by Alexandra Sugatan
Visit the NSTEM page for more posts about our STEM community!