Right now, the world's STEM leaders are at the forefront of the fight against COVID-19. With the rise of the pandemic, the need for more science, technology, engineering, and math talent has never been more apparent than today. The pandemic has proven that careers in the STEM fields are crucial to successful communities. However, the pandemic has also proven remote learning's limit on students' exposure to the STEM fields. Internships provide a meaningful way for students to apply their knowledge in a stimulating and professional setting. At NSTEM, we offer a diverse array of fascinating virtual internships, and here is why you should apply.
Internship Structure
NSTEM provides you with the opportunity to explore a variety of roles, experiences, and responsibilities. Based on your specific interests and goals, you will work on projects that are essential to the day-to-day operations of our organization while receiving guidance and resources for applying your knowledge to your professional life. As an NSTEM intern, you will have the opportunity to choose from several integral departments to join and perform real, meaningful, and enjoyable tasks. These departments include Social Media Marketing, Analytics, Member Care, Email Marketing, Info Collection / Data Management, Public Relations (PR), E-Commerce, Video Production, Human Resources (HR), and Website & Technology.
Throughout your internship, you will be able to explore these departments to find out which ones are a right fit for you. This way, we can ensure the internship remains enjoyable and supportive of your educational and career goals. Not to mention, there are plenty of opportunities to advance in your department and take on stimulating leadership positions!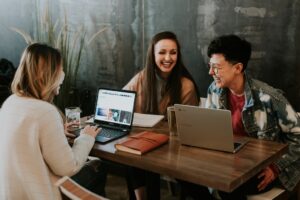 Intern Goals & Learning Objectives
Here at NSTEM, we work tirelessly to ensure all of our interns get the attention they need pursuant to their internship goals. Interns are provided with opportunities to work on projects that align with their learning goals, with evaluation and constructive feedback along the way. Interns at NSTEM can expect to meet their academic and learning goals, explore career options, and gain real-world industry experience under the guidance of a committed staff. The learning objectives we strive to meet include, but are not limited to:
Increasing knowledge of the industry

Growing leadership skills and learning to manage large projects

Gaining experience in adapting to changing roles and environments

Conducting research and practice analytical/quantitative skills

Assertively engaging at work, conducting research effectively, writing and presenting professionally, and making business decisions
In addition to the support provided by our staff, interns also have the opportunity to learn from each other because of the cooperative nature of NSTEM's projects. Team building is highly emphasized in order to create a collaborative working environment for you to learn and thrive.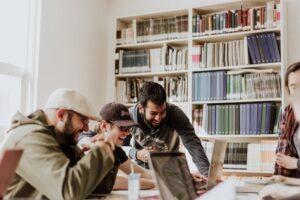 Leadership Opportunities
Leadership is not only a valuable life skill, but it's one that is necessary to get ahead in the workforce. Not to mention, it is highly sought after by colleges and jobs. We, at NSTEM, understand that and frequently offer opportunities to take on leadership positions both large and small. We have two main roles: Directors and Project Managers (PM's). Directors oversee departments that consist of projects, PM's and team members. PM's lead individual projects and teams and take a more defined role into each individual project. In some instances, new interns are promoted directly to Director or PM roles; however, in most cases, interns are promoted from within based on performance. Leadership experience is crucial, and it is something you would not want to miss out on by passing up an NSTEM internship.
NSTEM Team
As an intern who has the privilege of working at NSTEM, I can attest that the team here is nothing short of remarkable. The culture at NSTEM is friendly, motivating, engaging – and all the while autonomous and completely based on trust, respect, dependability and integrity. The team here is highly adaptive and constantly motivates me to work hard and perform well. It is truly a dynamic, energetic, and vibrant team. Interns are always motivated and eager to succeed. There's no shortage of work to be done, so there is always room for growth and challenge. All the while, NSTEM is incredibly flexible and prioritizes work-life balance to ensure that the internship remains enjoyable and suits you and your schedule. Not to mention, differences are celebrated here in such a way that everyone feels like they have a vital place at the company. Ultimately, the NSTEM team is constantly inspiring and driven to go the extra mile, and I cannot speak more highly of them.
If you are a student, chances are your plans have not gone as expected, but that doesn't make STEM internships any less important. We need to ensure STEM education opportunities stay alive and meaningful – even amid our unpredictable times. Take advantage of this opportunity to unleash your passion for the exciting fields of science, technology, engineering, and mathematics with an NSTEM internship. Click here to apply now!
Written By: Krithik Ashokkumar, Edited by: Emily Hyser