Are you curious about how to create a better lesson plan for your STEM students? There are certain characteristics and themes you want to include in your lesson that will keep students engaged. Additionally, it is important to include these themes because it will help your students learn STEM material more effectively.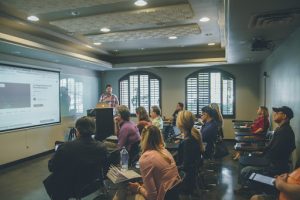 Some of your lessons may include an example, problem, or project about a real-world issue. A real-world STEM problem will help to engage students who might have been previously disinterested. This is because students will be able to see how STEM affects the world around them. Also, real-world examples in STEM may be able to help students conceptualize the content better. By connecting STEM to the real-world around them, students will be able to understand the material better. 
Teamwork
If you are teaching your students STEM, you will want to include teamwork in your lesson plan. Teamwork is an essential skill that any student should learn. Especially in STEM, students will be working on teams all the time in labs, doing research, or working on projects. By incorporating teamwork into your lesson plan, your students will be able to adopt this skill. This will allow your students to learn how to work together and figure out STEM-related problems with each other. 
Use the Engineer Design Process
Most STEM lesson plans will include the Engineer Design Process. The Engineer Design Process can be used to help students solve problems and find solutions. When encountering a STEM problem, students can use this process to define and research it, find many possible solutions, and develop and test them. When including this process in your lesson plan, students will evaluate a problem, find multiple solutions, and learn how to improve. 
In your STEM lesson, students should be working on hands-on material. Students can work hands-on with material by researching, designing, building, or creating something relevant to the concept they are learning. When students work hands-on, they are more likely to be focused on the material and retain the information better. 
Include Relevant Math and Science Material 
Your lesson plan should incorporate grade-appropriate math and science concepts together. Math and science are interconnected, so students must see this connection early on. Higher-level STEM subjects like Physics and Engineering are heavily connected with math and science. This is why students should be learning about how these two subjects are intertwined through their lessons. 
Looking for more ways to better teach your students about STEM and keep them engaged? Visit NSTEM's website for more information: https://www.nstem.org/ 
Written by Meghan Latham
August 18th, 2021