With the ongoing pandemic, online learning has proven to be difficult for both students and teachers alike. Often, students find it hard to be motivated to learn through a computer screen at home. Without their peers, or a proper learning environment, focusing on class and trying to stay engaged can feel impossible. On the other hand, teachers face similar problems as well; they experience little to no participation while talking to a screen full of black squares. It's hard enough to create a lesson plan that will keep students engaged in person, let alone through a laptop.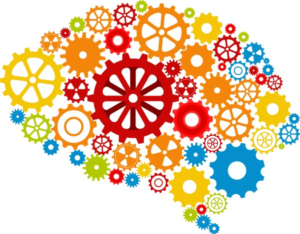 Image title: Brain With Gears
It's apparent that traditional lesson plans are difficult to execute online, so how do we combat this issue? We must think outside the box! 
Rather than continuing to teach lessons that are unengaging, let's try a different approach. 
Try to treat the lesson as if it were a conversation or discussion. This will create an engaging environment that will allow students to voice any thoughts. 

Instead of showing your students the solution off the bat,

try to get them to come to a conclusion

on their own or as a group. 

Rather than a teacher,

act as a guide

. Help your students reach the answer, but let them work it out in their own heads. 

Prompt questions that will begin the thought process, and let them be wrong, but encourage failure. 

Soon they will reach the answer, leaving them with a sense of satisfaction. 
This type of teaching is known as the Socratic Method! This type of teaching might seem daunting at first, but we promise it's much more simple than you might think. Keep in mind, you can experiment with this type of teaching, whether it be one lesson, a hybrid, or fully adopting it. Below are some instructions which could help implement the Socratic Method!
No notes!

When starting the lesson, tell your students to put everything away. No notepads, pens, binders, books, etc. You want an empty desk with no distractions. Remember, this will be a discussion, not a lecture. Notes are a bit distracting, especially if the conversation picks up speed. Instead of focusing on notes, which students will probably never look at again, focus on the topic on hand, and how others are working to reach a solution. It will be a nice change of pace for your students!

Encourage failure!

Nowadays, students are so focused on being perfect. They refuse to participate because they will be embarrassed if they say something incorrect. You want to create a comfortable environment for students, so let them know from the beginning that failure is encouraged! Even the best of the best fail 100 times before they succeed. STEM is all about trial and error, teach that from the start!

Remember to guide! 

Don't forget, you are guiding your students to the answer. If your students are struggling to reach a conclusion,

throw some hints

. No one wants to be the person sitting there in awkward silence because they simply don't know how to answer the question. Sometimes they do know the right answer, but are afraid to be wrong. Regardless, your job is not to put them on the spot.

You are there to help them through the thought process.

If they are having a hard time, help them, or allow other students to chime in.

Make sure all students participate!

Going back to the main issue, teachers can face difficulty in getting students engaged. To combat this, try to make sure every student is participating. Allow every student a chance to answer, and if someone is being particularly shy, try to call on them. Make sure to give them an easy question so that they can answer and build a good relationship with in class participation. Also knowing that they might be called on at any minute may be enough to encourage students to pay attention!

Know your students!

With the socratic method, grading has to work differently. Students are all at different levels, and have different capabilities. Don't punish a student because they struggle in discussions. As long as they are trying to improve, that should be more than satisfactory. Teachers should instill students with the necessary skills — the desire to improve and the confidence to get a question wrong— which will help them throughout their lives and careers.

Participating is scary!

Students, like everyone else, have anxiety, making them dislike things such as presentations. It's nerve wracking for instructors and peers to evaluate a student's work. Keep this in mind! Your students probably have many thoughts and opinions, but may be too scared to voice them. It's up to you to create a safe environment for them to participate. They will get better over time!
Though the socratic method can be hard to implement with certain STEM subjects which require instruction before completing (ex: derivatives in calculus), it proves effective when teaching things such as theory (explain how formula/theory works in the real world). The point of the Socratic Method is to allow the students to come up with their own conclusions!
By Albert Nova, 5/21/2021