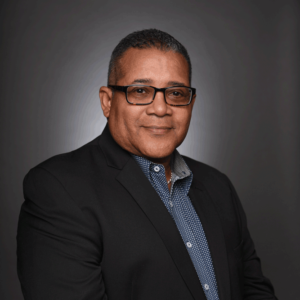 José A. Marquez-Leon
José A. Marquez-Leon is the National President, CEO, and TechLatino: Latinos in Information Sciences and Technology Association (LISTA). In this role, he serves as a lead advocate on state and federal issues related to the role of Latinos in the technology sector. He is also charged with coordinating organization-wide strategic planning for TechLatino: LISTA initiatives and is executive director of 15 TechLatino: LISTA Councils nationwide. Since TechLatino: LISTA's inception, the organization has developed programs to take our community from the "schoolroom to the boardroom." These programs are designed to introduce technology into classrooms, encourage information technology and science professions among young adults, facilitate technology-related professional development through certification training and job-matching programs, leverage online communications for continued collaboration, and recognize Latinos within the IT industry that are making a difference.
Given his leadership in the Latino community, José Marquez-Leon has received several achievement awards including Politics 360 GameChangers Award, Hispanic Trends Magazine Technology Trendsetter 2007, CCG Hispanic Engineer Magazine's 100 Most Influential Hispanics in Technology and Business 2006-2014, USHCC East Coast Chamber of the Year Award representing Region 5, NYSCHCC Chamber of the Year Award 2005, Greater NY Chamber of Commerce of the Year 2005, National Hispanic Achievers Award 2004, New York State Federation of Hispanic Chambers of Commerce Member of the Year 2004, Greater NY Chamber of Commerce Advocate of the Year 2003, among others. In 2008 Mr. Marquez was appointed by President Barack Obama to serve on FCC Committee on Digital and Media Inclusion. Most recently he was appointed to the Norcross Public Arts Commission Technology Association of Georgia Diversity Trendsetter 2017 and now sits on the Board of the Technology Association of Georgia Diversity and Inclusion Society. José also spearheads TechLatino: LISTA's annual humanitarian initiatives to bring technology to disadvantaged communities in rural cities and towns in the Caribbean and South American countries.
Before founding TechLatino: LISTA in 2004, José was Chief Architect and founder of Hispanics in Information Technology and Telecommunications (HITT) where he brought to light the lack of Latino presence in the United States IT and Telecom workforce. Prior to his role in establishing TechLatino: LISTA and HITT, he served as Senior Vice President of Strategic Channels for Mi8 Corporation and President of JAM III Communications Group– an e-business solution consulting firm assisting companies with their web strategies, security, and wireless communications. A 25-year veteran of the telecommunications industry José Marquez has held various senior positions from implementation and sales engineering to channel development and internet policy, at companies such as Sprint, MCI, AT&T, Global Crossing and Mi8. José graduated with an engineering degree from Rutgers University in 1981" (TechLatino, n.d.).
José A. Marquez-Leon emphasizes the importance of STEM, as stated, within TechLatino's mission, "Developing the next generation of diverse tech professionals has been in our DNA since 1997. Today, our mission is more prevalent than ever to educate, motivate and empower communities with technology.
See our Press Release here.
References
TechLatino. (n.d.) Leadership. TechLatino: The National Association of Latinos in Information Sciences and Technology. https://techlatino.org/leadership/